Friday, 12:35pm. It's the Loyola School's Faculty Day... supposedly. Thanks to this crazy weather, our family's getting worried that this non-stop downpour will result to Ondoy 2.0. I hope not.
Anyway, before the electricity goes out and the internet servers go down, I shall write my very first blog entry. Hurray!
---
While browsing through the notes that I've gathered for this week, I basically had no idea on what the structure of my blog would be like. How do I start my very first post? What else would I talk about apart from the topics that we've discussed during class? But after what seemed like hours of pondering, I decided that since this indeed is my first entry, why not write something which would reflect a little about me?
Communication has been an integral part of an individual's daily life. It's actually impossible to go through a day without doing or experiencing any form of communication. Since we're living in the modern age - we go online, we blog, we send text messages, and we receive calls - communication is practically everywhere. But it's important to know that the term could also correspond to a wide array of ideas and definitions depending on how people use it. That's why it's pretty interesting to discuss it in terms of its contexts, and how we could relate it with our own lives.
I believe that we are in constant communication with ourselves. We may not be aware of it, but we can call that
intrapersonal
communication. Simply put, it's like talking to ourselves. It's kind of silly when we think of it that way, right? But it's actually nice to know that we have the power to get in touch with our inner being. I know all of us have moments of deep thought, like assessing how our day went or contemplating on our options when making decisions. Based on my own experiences, it is very helpful especially in times of difficulties and doubts.
If you live in a metropolitan area, it is easy to get lost in all the hustle and bustle of city life. A deeper exploration of intrapersonal communication may bring us the peace and calm that we are all looking for, to help us feel rejuvenated every once in a while. It doesn't even have to be talking out loud. Personally, I just fall silent or write my thoughts on my diary. It somehow helps me sort out my emotions and keep track of my actions. And yes, you read that right. I'm turning eighteen on August and I still keep a diary. :)
When communication is between or among people, these are called
interpersonal
and
group
, respectively.
No man is an island, as the saying goes. Interpersonal and group communication, as well as the succeeding contexts, hold true to this saying. It is safe to say that life will seem pointless if we don't have the ability to interact and communicate with other individuals - no conversations, no debates, no discussions, no acquaintances, no friends, no relationships. Furthermore, this may also lead to conflicts and destruction since misunderstandings will be all over the place.
Reaching out to communicate with others is no easy task, especially if you're meeting them for the first time. I remember my early years of schooling, where I wasn't the type of kid to approach my new classmates and ask them to play with me. I think this is still the case until now (of course I no longer ask people to play with me), but I think I've somehow gotten better when it comes to communicating with new people, especially those who I meet in school. Just give me a few exchanges of the usual questions and answers (What's your course? Which high school did you graduate from? Are you part of any organization?) and I'll be comfortably conversing with you in no time.
Me with Diane, my best friend since Fourth Grade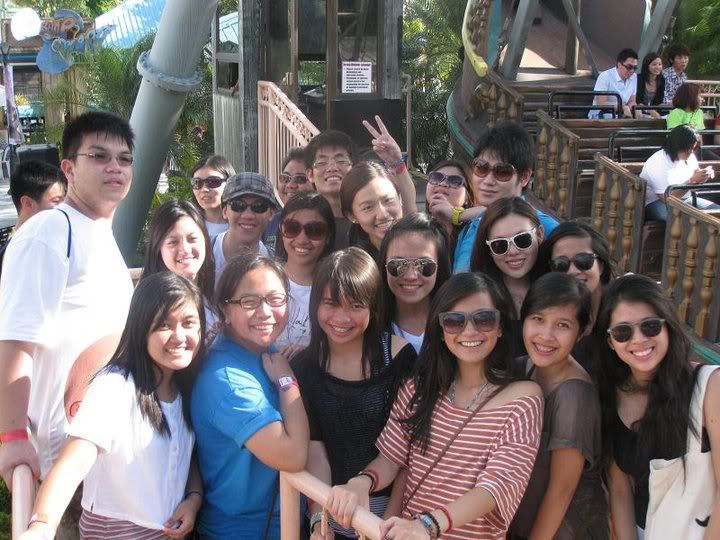 Block R in Enchanted Kingdom
When you consider communication using these contexts, I can no longer imagine life without it. Thanks to it, I was able to meet people who are close to my heart and establish friendships which I would really want to keep forever.
Next on the list is
organizational
, communication within and among an environment which is goal and process-oriented. Back in high school, I used to join different organizations. I was a CAT officer, I was part of the student council, the Z Club for Zonta Philippines, and many more. Being part of these made me learn about the importance of hierarchy. It is significant to keep in mind that in organizations, there are chains of command that must be followed. Disregarding these may result to having people offended or it may even be an act of disrespect to your superiors. Likewise, information dissemination in organizations often follow this hierarchical arrangement.
I am happy that I've already tried
public/rhetorical
communication, which is communicating to a large group of listeners. When I was in grade school, one of my teachers asked me too be a mass commentator for the Mass of the Holy Spirit which is usually celebrated at the beginning of each school year. From then on, I got involved in different activities involving public speaking. I've tried being an emcee for various school programs and I even got to deliver a speech during our high school graduation.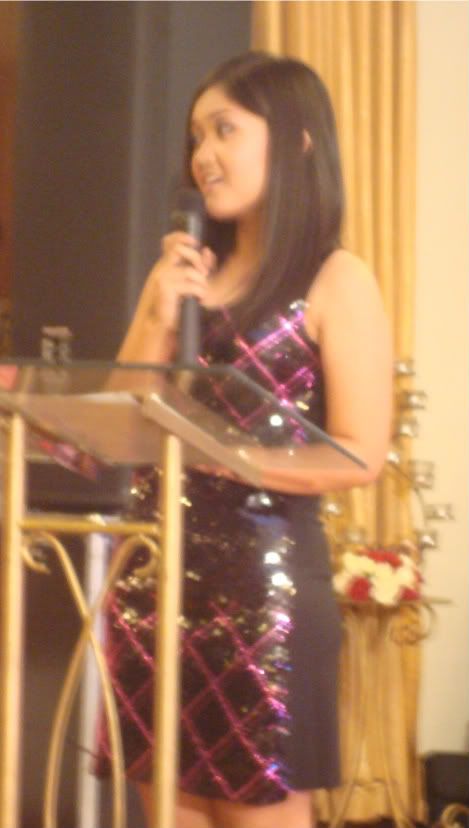 Me as an emcee during a friend's party
My brother and I as readers during our Confirmation Mass
I feel so blessed to have these experiences for I believe that these have made a big impact on my personality. I'm usually a shy person, but whenever I'm asked to participate in events like these, somehow I gain confidence and I am able to see my self in a different light. Maybe this is also the reason why I chose a college major which offers communication.
The last two contexts of communication that I have yet to try are
mass
and
intercultural
communication. The first one refers to communication to a large and diverse set of people through mediated channels, while the latter is communication between and among members of cultural backgrounds.
Source: http://media.onsugar.com
I still have a long way to go before I could actually get a job. As of the moment, my interest is still geared towards media-related fields. If the circumstances permit, I would love to try out broadcasting. It doesn't even have to be a work as a television personality; working behind the scenes is fine with me. Who knows, maybe I could work on my writing skills so that I'll be able to get a writing job for newspapers or magazines. There are a world of chances in this field, and I just hope I'll be lucky enough to have opportunities waiting for me.
AIESEC: The largest student-run organization
I'm actually excited for the coming months, since I'll be communicating with people from other countries through one of my orgs, AIESEC ADMU. I'm part of the Incoming Exchange Department, and my current task is to look for international trainees who are interested to come to the Philippines for a job or an internship. It's a pretty cool process, since I'm required to communicate with them through email and I will also get the chance to interact with them once they arrive here.
I also have a Korean friend who is my classmate in Aerobics. Since I'm interested in Korean entertainment, we always have a lot to talk about. I believe that communication with people from a totally different culture is very educating and fun at the same time. We are able to compare our differences, and in the end, learn something significant from one another.
Communication is indeed a broad topic, but discussing it in context can help us understand it more. We can also say that it's a powerful tool - when used wisely, we'll be able to make huge differences, not only in our nation, but all over the world. Writing this entry made me realize how big its influence on my life is, and I'm looking forward to more of it in the coming years.